In a small Kentucky town known as Wurtland, located just along the Ohio River, sits a manufacturing plant. Though the town of Wurtland may be unfamiliar to most, companies all over the world now know of its existence because of the innovative products designed and produced there. These products are made by Portable Solutions Group and consist of custom containers that have been transformed to meet each customer's unique need. What may have started as an ambitious venture from a local Appalachian has turned into a thriving company known worldwide.
Similarly, in the heart of Oxford, Mississippi, lies an airline company. This airline is not your ordinary commercial airline. It is a top-of-the-line private jet company that has been built from the ground up by another small-town individual with big dreams. The owner and founder of the company, Nicholas J. Correnti, has been around planes and even flying them since the age of 16. His vision for excellence and love for airspace created the company that is now known as Nicholas Air.
Though Portable Solutions Group and Nicholas Air seem to be vastly different companies, there are several similarities in the business models, customer experiences, and desire for local economic development. These parallels piqued the interest of Portable Solutions Group President and CEO, Robert Slagel. With the same understanding and prioritization of southern hospitality, when reaching out to Nicholas Air they offered to host a visit to their headquarters, utilizing their travel services. This allowed for the opportunity to learn more about Nicholas Air and how they turned their vision into a reality for their notable customers and for the community they are surrounded by in Oxford.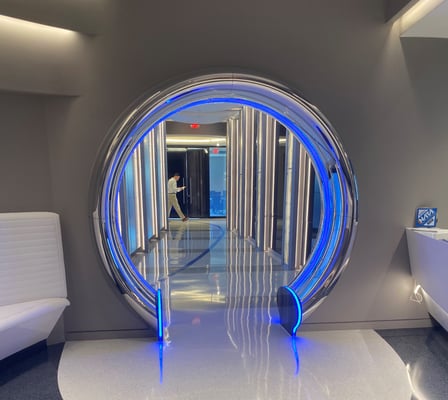 Valuing innovation and expansion, Nicholas Air has transformed their headquarters into  a futuristic office space using materials and parts from actual aircrafts. Their space, alike to Portable Solutions Group, showed their attention to detail and prioritization of a pristine work environment. Quality and consistency are top priority with incentives given to ensure employees are always mindful of their contribution to the company and to the brand of Nicholas Air. For these reasons, customers are loyal and feel more like family than clients, noting that the CEO even provides his personal cell phone number to every member.
Acknowledging the resemblance in the two companies and their ideals, the concept "best, not bigger" truly sums it up. Growth and economic development remain a priority, but the quality of the products and services will continue to take precedence over hasty expansion.
The visit at Nicholas Air headquarters reiterated that a quality work environment creates products and services that benefit not only the immediate surrounding area but also regions across the globe.